Let's take a look at the six types of emergency stretchers and what their respective advantages are. Hope it can help to choose the right stretcher.
1. Spine Board
A spine board is a stretcher designed to transport back trauma victims who need immobilization as much as possible. The injured person should not remain on the spinal cord for more than 40-45 minutes or they may suffer other types of trauma. An injured person cannot be handled vertically using a spinal board, and the board cannot be dragged. There are various types of spinal boards on the market, from very economical polyethylene models to more technologically advanced non-polluting materials, aluminum or carbon fiber models.

Spine Board
2. Basket stretcher
Basket stretcher is a very simple stretcher. The main body is a rigid cage rack (actually a "basket"). You put the casualty in, you don't even have to take the casualty off the spine board, you have a simple strap, and then you can move. Some basket stretchers can be dragged, others can be winched, and some basket stretchers can be split into two parts for easy carrying and storage. The main advantages are simplicity and, in some cases, very low cost, ideal for use in open Spaces. However, it is larger than other stretchers and is not suitable for rescue in cramped environments.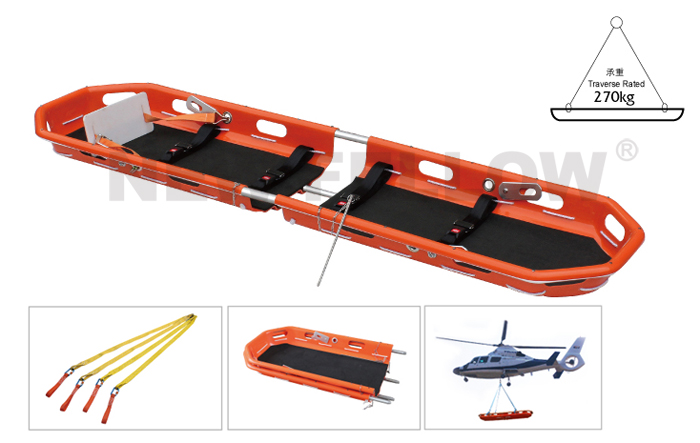 Basket stretcher
3. Stair stretcher
Stairs stretchers are often used in emergency situations to help patients with mobility difficulties quickly up and down stairs. Stairs stretchers are usually equipped with long retractable handles for carrying patients in narrow passageways. The frame is made of high strength aluminum alloy and PVC seat cushion, which can be folded for easy storage.
The stair stretchers provided by Xinfille include electric (electric stair climbing wheelchair) and manual (stair stretcher).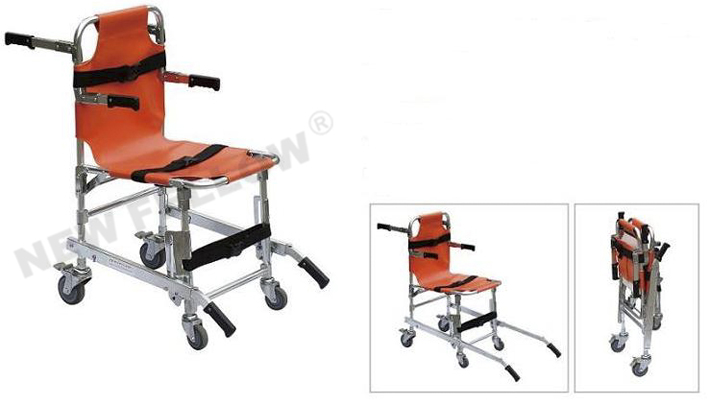 Stair Stretcher (Manual model)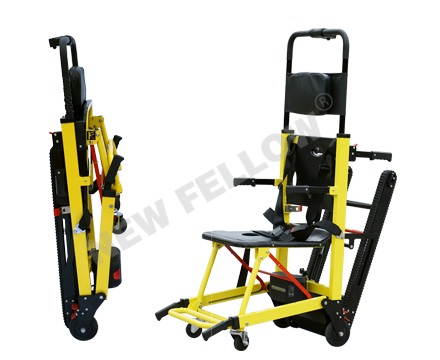 Electric climbing wheelchair
4. Crimp stretcher
The crimp rescue stretcher originated in the military and consisted of a "cloth" on which the wounded were placed. It was fully wrapped and could be passed through narrow passages. It was often used for rescue operations in cramped environments. In some cases, a spinal board or a vacuum mattress can be inserted to prevent multiple trauma. Special handles allow for drag, vertical lift, and horizontal lift with the help of special straps. There is a detachable shoulder strap that can be changed and configured according to usage. The stretcher can handle a casualty even in a vertical position and is one of the stretchers commonly used in confined Spaces.
The lifesaver stretcher provided by New Fellow is made of high toughness waterproof PVC fabric and a 5-centimeter wide wooden strip. It is specifically designed for lifting and lowering injured individuals in both horizontal and vertical situations. It is suitable for rescue in mines, caves, construction sites, collapsed buildings and confined space.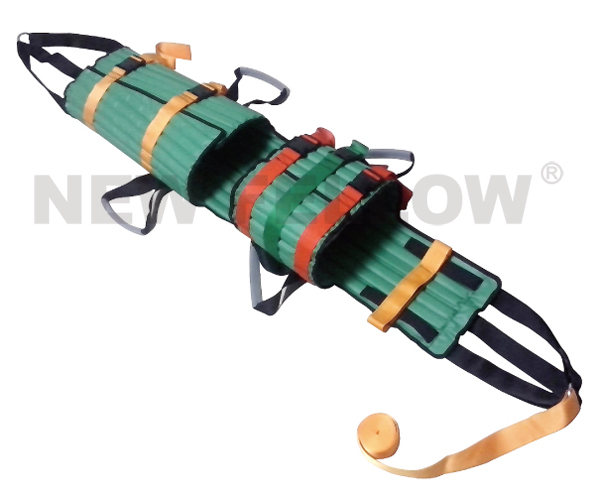 Lifesaver stretcher
5. Special mountain rescue stretcher
The Special Mountain Rescue stretcher is a stretcher designed for specific tasks that can be carried over the shoulder while keeping the injured person warm.
6. Snow rescue stretcher
The back protection of the snow rescue stretcher is made of a nylon shell, making it easy to transport over rough terrain when it must be towed. Comes with removable pad and handle for easy sliding on snow slopes. Side handles can be shipped with multiple operators.
---